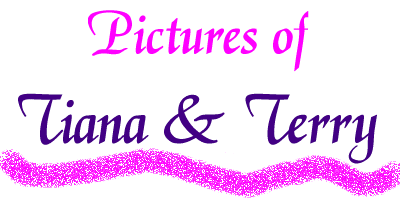 Okay, you wanted 'em... you got 'em! Here are some pix of Tiana and me!

Tiana at Butterfly World - September 1996
(Thanks to my good friend, Karen, for sending me this picture.)

Tiana - May 1996

Tiana - March 1996

Tiana aka Jam-Face!

Tiana and Terry - Christmas 1995
---
[About Terry] [About Tiana] [Cool Links for Adults] [Cool Links for Kids] [Email Me] [Friends] [Guestbook] [HOME] [Infertility/Adoption Links] [Internet Resources] [Lullabies & Other Songs for Children] [Music] [Pictures] [Quotes] [Recipes] [Stairway to Webbin'] [Talkers/Chat Lines] [Terry's Talker Tips] [Terry's Telnet Tips]
---
This Web page was created by Stairway to Webbin' Design Services,
and last updated on .