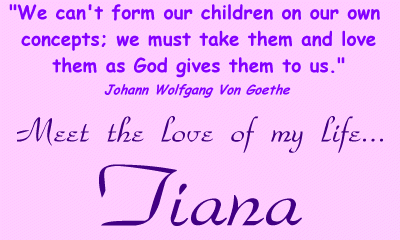 ---
| | |
| --- | --- |
| | Tiana was born on March 26, 1994, and came into my life through adoption on May 10, 1994. What a day to remember -- the emotions I was struck with: first, total disbelief, then (in no particular order) joy, wonder, awe, fear, love, amazement, panic. Just that morning, I was pondering the fact that there was a possibility -- a glimmer of hope -- that I'd be a mother before the day was over. By 1:00 p.m., it was a reality, and there I was, gazing in wonder at the precious gift I held in my arms -- the most beautiful baby I'd ever seen -- my seven-week old daughter, Tiana. |
| | |
| --- | --- |
| Before too long, we'd settled into a routine, or should I say that she got me to settle into HER routine. Whichever it was, life was bliss and Tiana brought more joy to my life than I thought possible. The hours spent cradling her in my arms and singing lullabies to her will always bring a smile to my face, and hopefully to hers. Music is still a big part of our lives -- not a single day goes by without us sharing a song or two, or more. | |
| | |
| --- | --- |
| | Here it is, 1998, and we're approaching our fifth Christmas together. (The picture shown here was taken in December 1994 -- Tiana's first Christmas). I can't believe how time flies! My 'baby' has graduated from toddler stage to 'little girl'. Where do the years go? How does this happen? It seems like just yesterday she was this tiny, fragile human being who depended on me to answer her every beck and call, and now her favorite words are "I do it myseff!" She's developed an incredible independent streak (I know, I know -- like all children seem to do at that age, but it seems so unique when it's your own child!); has memorized the words to over 100 songs, and takes great pleasure in singing them to her baby (doll); offers me comfort when I'm having a bad day; and just generally charms the living daylights out of everyone who crosses her path. |
I have truly been blessed by the arrival of Tiana into my heart and home. I will forever be grateful to her birthmother, with whom we have an open adoption, for the ultimate gift of love she bestowed.

"For you see, each day I love you more. Today more than yesterday and less than tomorrow."

(Rosemonde Gérard, "L'éternelle chanson")

Check out Tiana's Cool Links for Kids.
---
[About Terry] [About Tiana] [Cool Links for Adults] [Cool Links for Kids] [Email Me] [Friends] [Guestbook] [HOME] [Infertility/Adoption Links] [Internet Resources] [KIDiddles] [Music] [Pictures] [Quotes] [Recipes] [Stairway to Webbin']
---
This Web page was created by Stairway to Webbin' Design Services,
and last updated on .